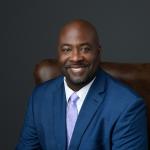 Director / Owner
Tall Cop Says Stop
Standing at 6'9", Jermaine Galloway can look intimidating. But in fact, he's a devoted, passionate man who cares about America's (and beyond) youth and communities. That passion informs what he does with Tall Cop Says Stop™.
Now a Texan by choice, Officer Galloway worked in Idaho law enforcement for over 18 years. His various assignments have included:
Alcohol compliance and enforcement
Crime scene investigation
DUI task force
Officer mentoring
Field training officer
He has trained fellow officers, judges, educators, community leaders, and many others in issues relating to drug and alcohol abuse. These issues include:
Alcohol laws
Drug/alcohol trends
Drug identifiers, logos, and clothing
Drug legalization
Party patrols
Party drugs
Synthetic drugs
Inhalants
Drug concentrates
Cough medicine abuse
Alcohol and energy drinks
Drug concealment
Fake IDs
Non-traditional alcohol consumption methods
Drugs/alcohol and popular music
Jermaine Galloway has published articles in American Police Beat Magazine and various newspapers. In 2015, his program You Can't Stop What You Don't Know™ was highlighted in the book Clearing the Haze by Dr. Christian Thurstone and Christine Tatum.
Officer Jermaine Galloway has received such prestigious honors as:
2009: National Law Enforcement Partner of the Year award from Office of Juvenile Justice and Delinquency Prevention (OJJDP)
2010: National Mickey Sadoff Underage Drinking Award from Mothers Against Drunk Driving (MADD)
2014: National Liquor Law Enforcement Association's (NLLEA) innovative project award (given to Boise Police Department for Galloway-led 10-10 Zone initiative)
2015: National and international award for American Association of Motor Vehicle Administrators (AAMVA) for work and training on fake IDs and underage drinking
2017: National Enrique Camarena Drug Awareness Award from the National Elks Drug Awareness program
2018: Law Enforcement Partner Award from the New York State STOP-DWI Foundation for his statewide efforts to prevent and educate law enforcement on drug-impaired drivers